Lượt xem: 2225
Trong kho : Hết hàng
Bảo hành : 12 tháng
The Model 825 represents the ultimate benchmark of dynamic realism and expressive refinement. A quarter century of engineering passion expressed in the synergy of advanced technologies and timeless design. A stunning achievement inspired by the musicality of an enduring classic: the Rowland Model 8.
Model 825
Experience the effortless magic of absolute authority. Vocalists and instruments materialize within an astonishingly concrete sound stage. From the most delicate solos to thundering orchestrals, emotion and music dance throughout a seemingly infinite frequency spectrum.
The Model 825 represents the ultimate benchmark of dynamic realism and expressive refinement. A quarter century of engineering passion expressed in the synergy of advanced technologies and timeless design. A stunning achievement inspired by the musicality of an enduring classic: the Rowland Model 8.
MACHINED ALUMINUM CHASSIS
Dual chassis precision-machined from solid bar-stock T-6061 aircraft grade aluminum providing exceptional thermal heat transfer/dissipation, RFI/EMI shielding, and resonance control.
FUNCTIONAL ISOLATION
The amplifier and power supply are isolated from each other in separate chassis. High-current DC power and low-current control signals are transferred between the amplifier and power supply via custom made detachable cables.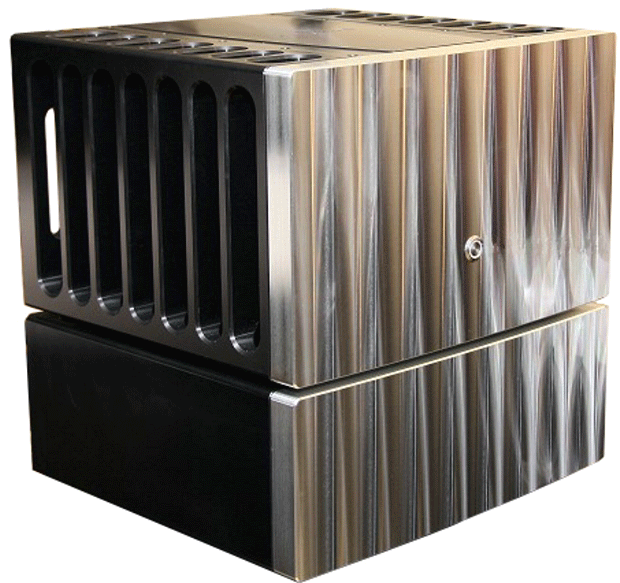 ACTIVE POWER FACTOR CORRECTION
Active Power Factor Correction (PFC) in the power supply reduces AC line harmonic noise pollution and increases AC line power utilization to 93%. Voltage and current demands from the amplifier remain in phase with each other which eliminates the transient, out-of-phase, high current pulses common to the operation of all other non-PFC audio power amplifiers.
HIGH-EFFICIENCY SWITCH-MODE POWER SUPPLY
Powerful, efficient, 2500W switch-mode power supply provides optimum voltage regulation for all circuits and operating conditions, and allows for quiet operation over a wide range of AC mains power sources.
ZERO-CURRENT SWITCHING
The power supply is comprised of four DC to DC converters incorporating "zero-current-switching" technology for high-efficiency and greatly reduced levels of conducted and radiated noise.
4 POLE CAPACITORS
Custom-made 4-pole capacitors integrated within the power supply further reduce any remaining residual noise.
NOISE ISOLATION
An isolated, discrete component, shunt-regulated power supply, providing over 130 decibels of noise isolation, offers low broadband noise and output impedance. This supplies noise-free DC power to all low-level audio circuitry for battery-like performance.
SOLID-STATE RELAY
AC Mains power is switched via a solid-state relay. Switching occurs only during the AC mains zero voltage crossing period dramatically reducing in-rush current during turn-on surges and providing a lifetime of trouble-free switching.
CERAMIC CIRCUIT BOARDS
All input circuitry is implemented on mil-spec, multi-layer, low dielectric constant, Rogers™ ultra-rigid ceramic circuit board substrate for extremely low energy retention and absorption.
BALANCED TOPOLOGY
Inherent cancellation effects of balanced topology implemented throughout all power and input/output circuits ensures greatly reduced distortion and noise under dynamic signal conditions.
HIGH-PRECISION SURFACE MOUNT COMPONENTS
Extensive use of Lead (Pb)-free, low temperature coefficient, active and passive surface-mount components results in significantly smaller loop areas, reduced circuit capacitance and inductance, and introduces less noise than conventional leaded components.
THIN FILM RESISTORS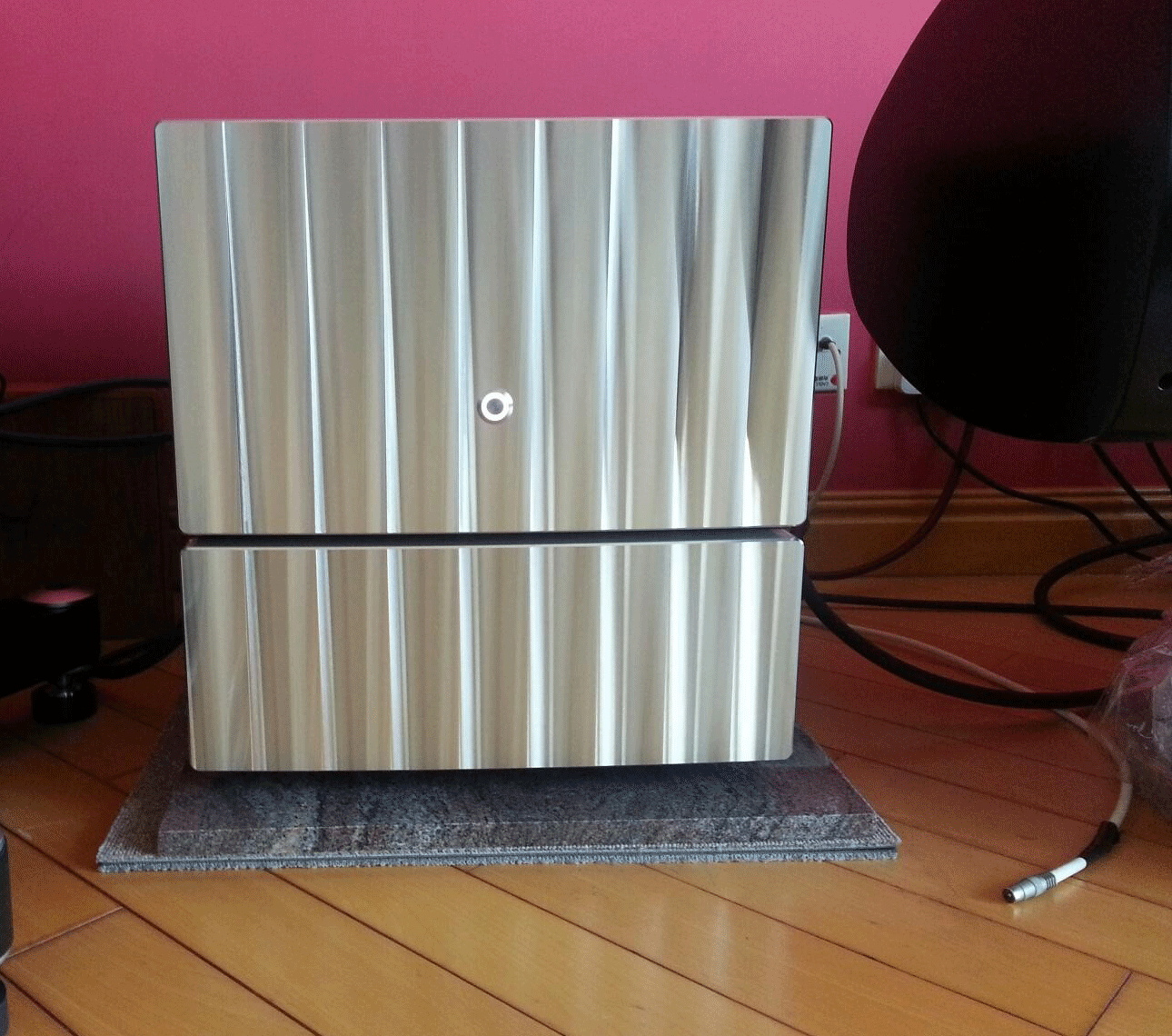 All resistors are low-noise, 0.1% thin film Surface Mount Devices (SMD) type for extremely low thermal noise which complements the low-noise characteristics of the active circuitry.
TRANSFORMER-COUPLING AND ISOLATION
Transformer coupled input circuitry provides universal component compatibility, excellent common-mode noise rejection (CMRR) from the input source, and virtually eliminates ground loop noise and RFI/EMI. Transformer coupling ensures identical amplifier overall gain when using unbalanced inputs.
REAR PANEL CONTROLS
Rear panel switching of input phase, overall gain, and input selection (XLR/RCA). A "link switch" permits electrical linking of both right and left channels for bi-wiring applications.
CUSTOM INPUT JACKS
Both XLR and RCA input jacks are custom-made Cardas connectors constructed of copper, rhodium, gold, and Teflon materials for minimal signal loss and excellent corrosion resistance.
CUTTING-EDGE OUTPUT CIRCUITRY
Innovative class-D audio power technology is based upon a non-hysteresis 5th order self-oscillating control loop taking feedback only at the speaker output.
EXTREMELY LOW DISTORTION
Unique output circuitry ensures an extremely low distortion level of less than 0.004% THD + Noise over the entire audio spectrum of 20 Hz to 20 kHz powering any load ranging from 2 to 8 Ohms.
STABILITY AND FLEXIBILITY
An output impedance of less than 0.003 Ohms (3 milliohms) over the entire frequency range of 20 Hz to 20 kHz ensures that all loudspeaker types can be driven with impunity. Stability of the amplifier is guaranteed under all conditions when driving any loudspeaker or loudspeaker cable type.
ERROR DETECTION
Extensive microprocessor controlled error detection circuitry ensures protection of associated loudspeaker components under many extreme operating conditions.
HIGH-EFFICIENCY
A power efficiency of 93% at full power output afforded by this technology ensures low energy consumption, low operating temperature, and an extended service life of all components within the amplifier.
PARALLEL BINDING POSTS
Dual CE approved speaker output terminals require no tools for secure, low resistance connections, and allow for easy bi-wiring applications.
FLEXIBLE 20 AMP AC POWER
20 amp AC power inlet accepts a wide variety of after-market high-performance power cables.
FRONT PANEL STANDBY BUTTON
Illuminated front panel push-button switches the amplifier into standby mode. Separate stand-by circuitry reduces AC mains power to less than 1 watt during stand-by, ensuring international regulatory compliance.
REMOTE ON/OFF
A 1/8" (3.5mm) mini plug connector on rear panel permits amplifier power on/standby switching in remote and home theater applications.
SELF-LEVELING SUPPORTS
Removable 3-point self-leveling Delron chassis supports provide high frequency mechanical noise isolation.
Specifications
| | |
| --- | --- |
| Output Power | 400 watts @ 8 ohms / 750 watts @ 4 ohms |
| Frequency Response | 5 Hz – 50 kHz |
| Input Impedance | 40k ohms |
| THD + Noise | 0.004%, 20 Hz – 20 kHz |
| Damping Factor | > 1000, 20 Hz – 20 kHz |
| Overall Gain | Switchable 26/32 dB |
| Inputs | 1 pr balanced (XLR) / 1 pr unbalanced RCA |
| Outputs | 2 pr parallel binding posts |
| Amplifier Weight | 160.4 lbs. / 73 kg |
| Overall Amplifier Dimensions (h/w/d) | 16.5" x 15.5" x 16.25" / 419mm x 394mm x 413mm |