Lượt xem: 9
Trong kho : Còn hàng
Powerful yet compact, the 4319 control monitor is a home version of monitor loudspeakers built for professional recording studios, measuring just 21-1/2 inches (545 millimeters) high, 12-7/8 inches (328 millimeters) wide and 11-3/4 inches (300 millimeters) deep. Level attenuators let you tailor the midrange and high-frequency performance to your suit your personal taste.
4319
Throughout several decades, more professional recording studios have used the JBL® Model 4310 than any other monitor, setting the standard of power and realism for all that followed. The 4319 control monitor, with its unmistakable blue baffle and grille, continues that proud tradition. Engineered to play loud and long with unequalled dynamics, sonic clarity and tonal accuracy, the 4319 features a massive, 12-inch (300-millimeter) woofer driven by a Differential Drive® (U.S. patent no. 5,748,760 and other patents pending) dual voice-coil assembly, a large inverted-dome midrange driver and a fast magnesium/aluminum dome tweeter.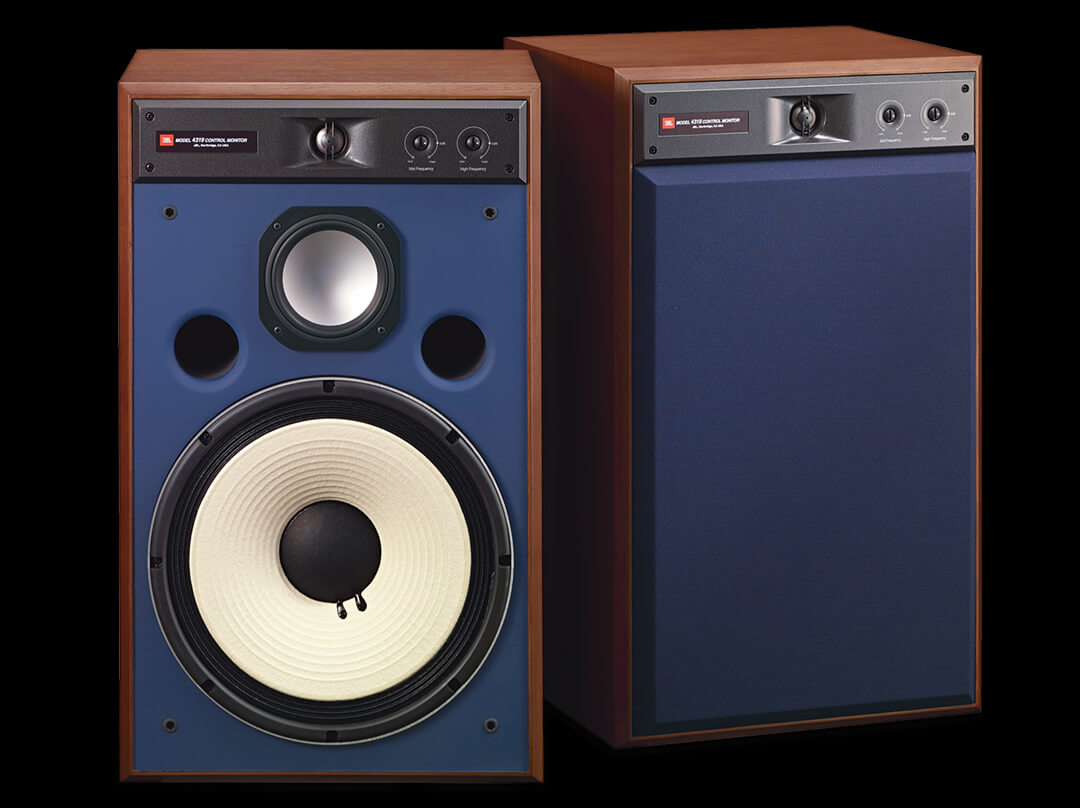 Together, these advanced transducers deliver quick, tight bass, a natural, well-focused midrange and clear, distinct highs to create listening experiences with all the richness and detail of live performances. Die-cast transducer frames dissipate heat to minimize distortion caused by power compression, while a heavily braced enclosure virtually eliminates unwanted internal resonances. Music professionals and critical listeners have only the highest expectations for JBL studio monitors, and the JBL 4319 delivers brilliantly.
You can now enjoy professional-quality sound in the home with a precision loudspeaker that offers the dynamics and accuracy that JBL® engineers have produced for musicians and other audio professionals.
4319 Highlights
25 – 200 watts suggested amplifier range
12" (300mm) low-frequency transducer for low-distortion, natural sound
5" (125mm) midrange transducer for smooth midrange reproduction
1" (25mm) high-frequency transducer for sparkling HF response
Front-mounted ports for extended low-frequency response
Continuously variable midrange and high-frequency attenuators to tailor overall sound
JBL sound: a heritage of excellence
| | |
| --- | --- |
| GENERAL SPECIFICATIONS |   |
| Finish | Cherry |
| Type | Bookshelf Speakers |
| AUDIO SPECIFICATIONS |   |
| Frequency Response | 38Hz – 40kHz (–6dB) |
| Nominal Impedance | 6 ohms |
| Maximum Recommended Amplifier Power | 200 watts RMS |
| Crossover Frequencies | 38Hz – 40kHz (–6dB) |
| Sensitivity | (2.83V/1m) 92dB |
| Crossover Point | 2kHz |
| SPEAKER SPECIFICATIONS |   |
| Low-Frequency Transducer | 30mm pure pulp cone |
| High-Frequncy Transducer | 25mm aluminium-magnesium alloy dome |
| Midrange Transducer | 125mm aluminium-magnesium alloy cone |
| DIMENSIONS |   |
| Height (in) | 23-1/2 |
| Depth (in) | 11-7/8 |
| Width (mm) | 362 |
| Depth (mm) | 302 |
| Weight (lb) | 35.9 |
| Height (mm) | 597 |
| Weight (kg) | 16.3 |
| Width ( in) | 14-1/4 |