Lượt xem: 15
Trong kho : Còn hàng
THE METIS 7 IS AN ENTRY LINE INTEGRATED AMPLIFIER. ITS TELOS AMPLIFICATION TECHNOLOGY PROVIDES OUTSTANDING DYNAMICS AND EXERTS A STRONG CONTROL OVER THE DRIVERS FOR AN EXTREMELY NEAT AND DETAILED SOUND.
Metis 7
Integrated Stereo Amplifier
The Metis 7 is an entry line integrated amplifier. Its Telos amplification technology provides outstanding dynamics and exerts a strong control over the drivers for an extremely neat and detailed sound.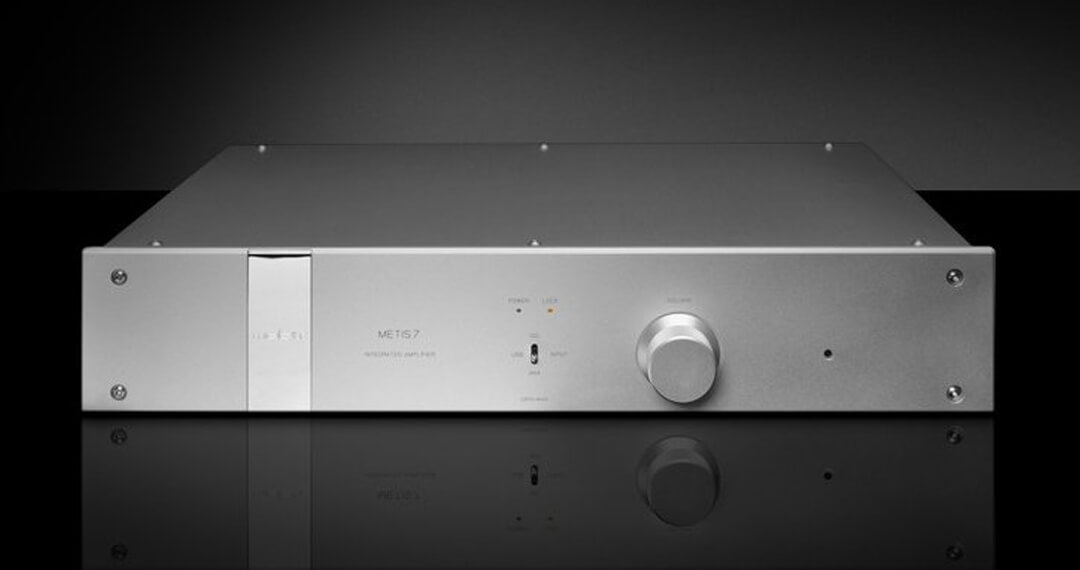 It is the ideal companion of a simple stereo system and provides the necessary power to drive any speaker. Its size is compact, and the front panel includes a volume control and an input selector switch, the ir receiver for the remote control, as well as led indicators for power and digital lock.
| | | |
| --- | --- | --- |
| POWER SUPPLY | Nominal line voltage: 117 or 234 V (switchable) |   |
|   | Fuse 8A for 110V and 220V |   |
|   | Input voltage range: +/- 10 % |   |
|   | Rated Power Consumption: |   |
|   |   | IEC 60065, 1/8 Output Power at 8 Ω: 240 W. |
|   | Max Power Consumption |   |
|   |   | IEC 60065 at 8 Ω /1% THD: 700 W. |
| OUTPUT POWER | FPP at 8 Ω: 190 W |   |
|   | IEC 60065 at 8 Ω / 1 % THD+N: 2 x 175 W |   |
| FREQUENCY RESPONSE | 20 Hz – 20 kHz, unloaded: +/- 0.5 dB. |   |
| REMOTE CONTROL | 2 x output binding posts Left & Right |   |
|   | ON/OFF power switch key |   |
|   | Voltage input selector |   |
|   | RS232 Command connector |   |
| INPUTS | USB device: |   |
|   |   | Audio Class 2.0 (no driver required on Mac OS X as of v.10.6.4 nor on Linux, driver required only for Windows) |
|   |   | Sample rate up to 384 kHz/Bit depth up to 32 |
|   |   | DSD over PCM capabilities |
|   | 1 x Toslink Optical or Digital S/PDIF coaxial RCA 75 Ohms |   |
|   | 1 x Analog RCA (Left & Right) |   |
| FRONT PANEL | Knob for digital volume control |   |
|   | Input switch selection |   |
|   | Power and lock Led |   |
| REAR PANEL | 2 x output binding posts (left & right) |   |
|   | ON/OFF power switch key |   |
|   | Voltage input selector |   |
|   | RS232 Command connector |   |
| DISTORTION | THD+N, unloaded: < 0.08 % from 20 Hz to 20 kHz at 30 VRMS output |   |
|   | IMD (SMPTE), unloaded: < 0.02 % before clipping |   |
| OUTPUT NOISE FLOOR | Inputs terminated with RCA Shorting Caps, unloaded: < 10 µV from 20 Hz to 20 kHz |   |
| DYNAMIC RANGE | 22 kHz measurement bandwidth (flat): > 100 dB |   |
| GAIN | 35 dB |   |
| DAMPING FACTOR | 220 at 1 kHz, 8 Ω |   |
| SIZE & WEIGHT | 44 W x 35.2 D x 10.6 H (cm) ; 17.3 W x 13.8 D x 3.9 H (inch) |   |
|   | 10 kg |   |
| WARRANTY | 3 years, parts and labor. |   |