Lượt xem: 4161
Trong kho : Còn hàng
Bảo hành : 12 tháng
The Lexicon RV-9 Class G Immersive Surround Sound AVR brings the private cinema sensory experience to new heights. With Dolby ATMOS and DTS:X 3D surround sound processing, Dirac room EQ, Logic7 Immersion, and plenty of responsive class G power; the RV-9 delivers a powerful, sensory rich experience with exceptional clarity.
RV9 AV Receiver
Everything you need - done right.
The Lexicon RV-9 was designed to ensure that the most important components of a premium AV system were executed with maximum effectiveness. Superfluous connections and features were eliminated and resources focused to maintain best in class audio and video signal integrity and processing, as well as uncompromised Class G amplification on all channels, ensuring exceptional transparency even with the most demanding program material. The video and audio stages are designed for current and upcoming technologies. HDMI2.0a with HDCP2.2 4K "Ultra HD" and 3D video capability as well as Dolby Vision compatibility are built in.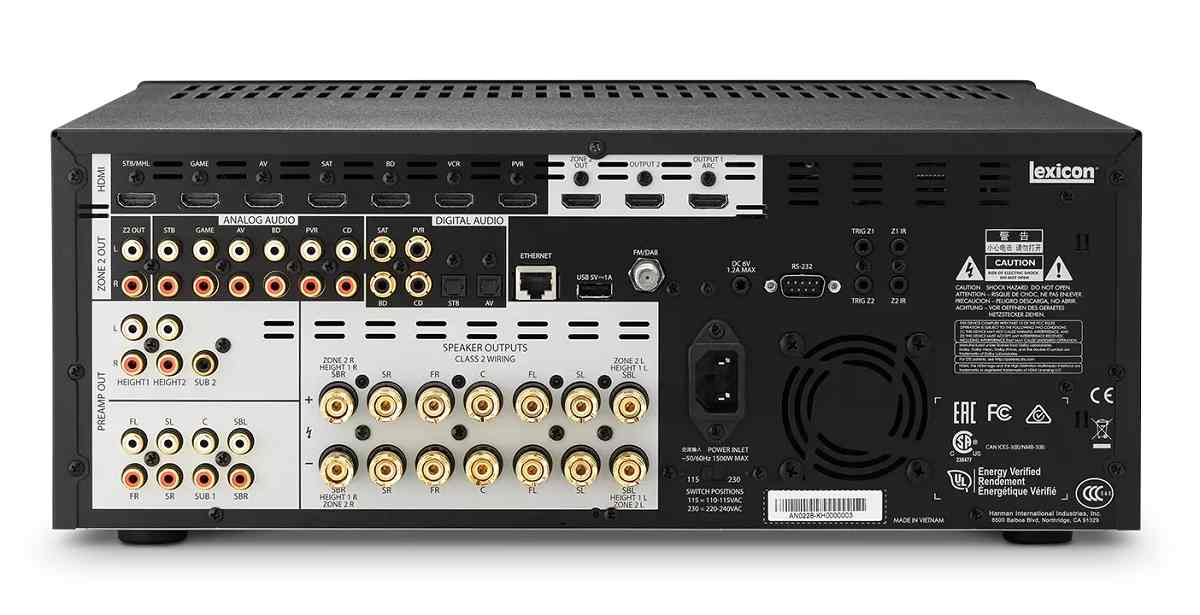 An audiophile grade 24Bit /192kHz DAC, Dirac room equalization, exceptional dynamics and low distortion ensure pristine sound for music and movies. The Harman proprietary Logic 7 Immersion™ up mixer allows content to envelop the listener with a rich and natural three dimensional sound. Flexible configuration, Spotify Connect, and a zone 2 with audio, 4K video, IR control, triggers and power option, make the RV-9 an excellent choice for a broad range of applications.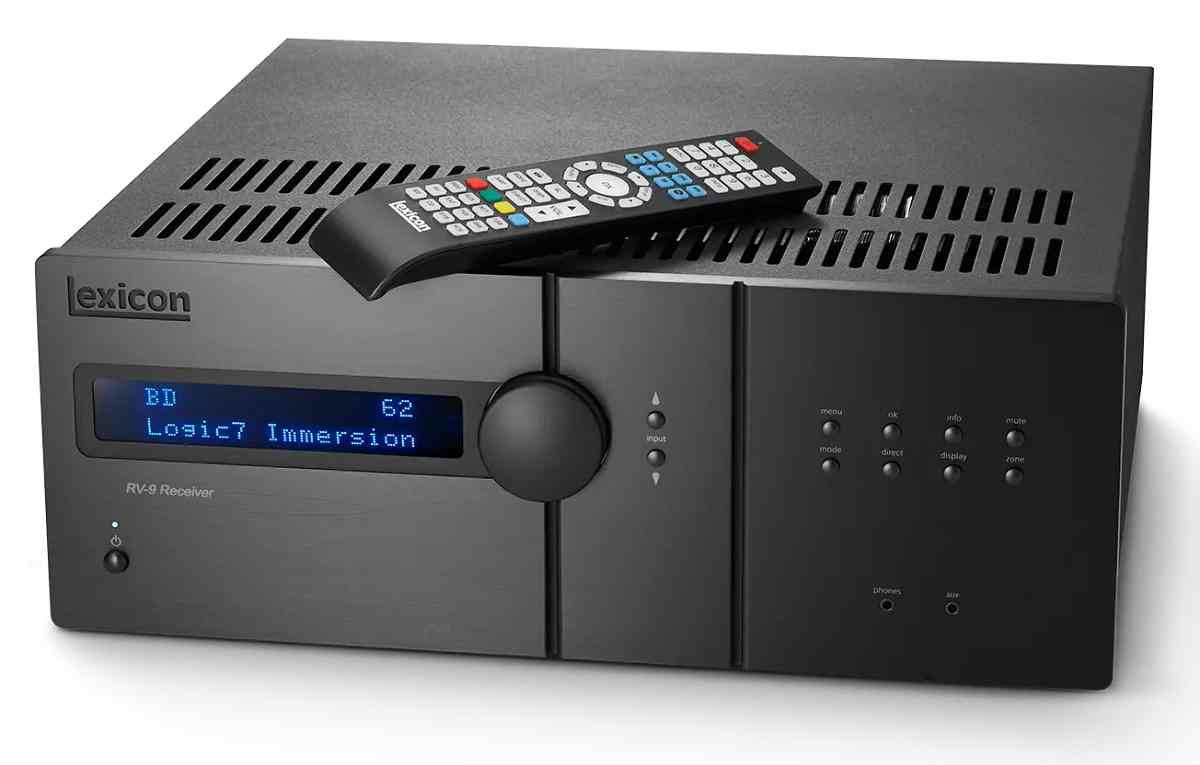 Lexicon RV-9 Highlights
Logic7 Immersion natural sound upmixer

Dolby Atmos & DTS:X with 11.1 decoding and 7.2.4 outputs

4K (UHD) HDMI2.0a with HDCP2.2 in Main and Zone 2

7 HDMI inputs, 3 HDMI outputs, ARC compatible

Dirac Live® for Lexicon room correction

Cirrus CS42528 audiophile DAC

Class G power amplification

Rear panel ethernet, RS232, Main and Z2 IR and triggers

Free MusicLife iOS UPnP and control app

Independent volume control of sub outputs
Specifications
General Specifications

Continuous power output, per channel

8Ω/4Ω

2 channels driven, 20Hz ‑ 20kHz

<0.02% THD 120W/200W

2 channels driven, 1kHz

0.2% THD 130W/210W

7 channels driven, 1kHz

0.2% THD 100W/180W

Residual noise & hum (A-wtd)

<0.15mV

Mains voltage

110–120V or 220–240V, 50–60Hz

Power consumption (maximum)

1.5kW (Thermal dissipation approx. 5200 BTU/hour)

Power consumption (idle, typical)

100W (Thermal dissipation approx. 340 BTU/hour)

Power consumption (standby)

<0.5W

Dimensions

W x D (including speaker terminals) x H (including feet)

433 x 425 x 171mm

Weight (net)

16.7kg

Weight (packed)

20.0kg

Audio Interface

Preamplifier outputs

Nominal output level

1V RMS

Output impedance

560Ω

THD+N (20Hz—20kHz)

-100dB

Audio Output

Headphone output

Maximum output level into 32Ω 2Vrms.

Output impedance <5Ω

Audio Input

Stereo line inputs

Maximum input

4.5V rms

Nominal sensitivity

1V, 2V, 4V (user adjustable)

Input impedance

47kΩ

Signal/noise ratio (A-wtd ref 100W) normal/stereo direct

100dB/120dB

Frequency response

20Hz—20kHz } 0.1dB