PC-1
Jeff Rowland PC-1
The Jeff Rowland Design  PC-1 is an advanced external power rectifier and conditioner based on the same Active Power Factor Correction [PFC) technology incorporated in JRDG reference amplifiers such as the Model 625 stereo power amplifier and the Continuum 500 integrated amplifier. PC-1 has been designed to bring the exceptional sonic and musical benefits of power factor correction to those JRDG amplifiers that feature switch mode power supplies, but do not incorporate internal PFC-based power rectification circuits.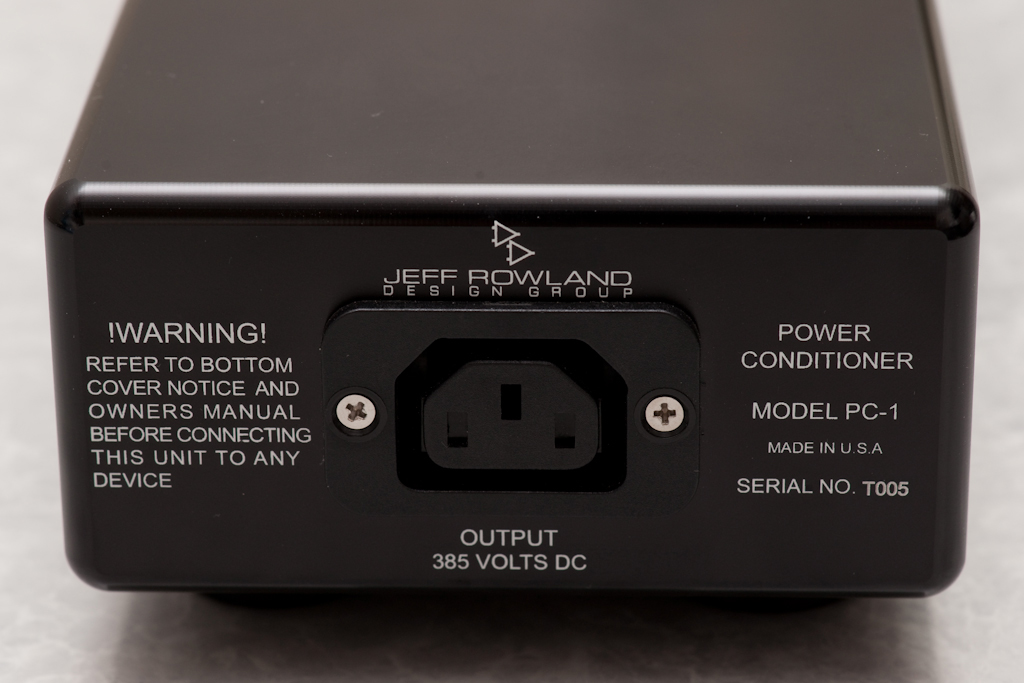 Through a multi-step process, the PC-1 provides a noise free DC power stream at up to 385V, isolated from the grunge of the typical AC mains grid. The high voltage clean DC maximizes the performance of all highly regulated switch mode power supplies incorporated in compatible JRDG power amplifiers. The PC-1 synchronizes the current and voltage sinusoids from the AC mains, and then uses the resulting highly optimized AC to generate an invariant DC current and voltage. A final step cleanses the DC power from any residual voltage or current fluctuations, ripples, or unwanted noise through a large bank of charge capacitors.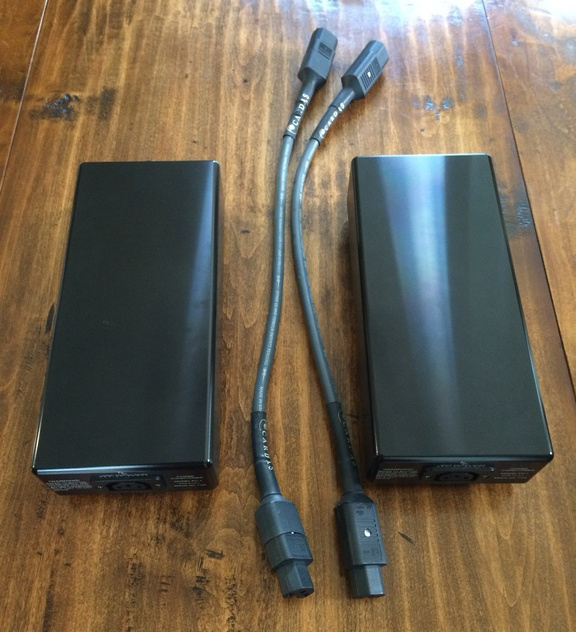 A PC-1 features a single output power connector. An 18 inch long power 'pigtail' is supplied with the unit for connection to a compatible JRDG component. 2 components may be connected to a single PC-1 through an optional "Y" pigtail that can be ordered from authorized JRDG dealers, or from the JRDG factory.

Please note that the PC-1 can be connected only to components that incorporate switch mode power supplies. Furthermore, any compatible component must have been pre configured to operate at 220VAC prior to connecting it to a PC-1, or the compatible component must be equipped with an auto-sensing and auto-ranging switch mode power supply. Connection of a PC-1 to an incompatible component, or to a compatible component configured for 120VAC operation, will result in significant damage to the component or to the PC-1. Any damage caused by misuse of the PC-1 is not covered by JRDG warranty, and will be repaired at the owner's expense.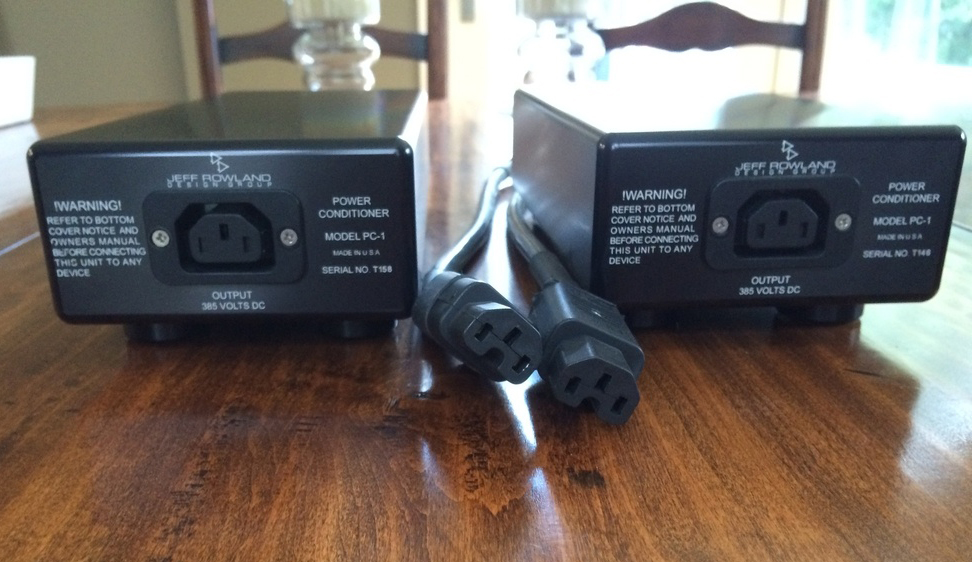 The PC-1 design and construction reflects the unsurpassed Jeff Rowland attention to superior quality and detail:

A high speed switch in the PC-1 circuit extracts energy at 100 KHz from an inductor during the entire cycle of the AC sinusoid. Ensuing DC Energy is then filtered through a capacitor bank for further normalization.

The sensitive electronic circuit of the PC-1 is housed in an ultra-low resonance, structurally

rigid chassis, precision-milled from a solid ingot of aircraft grade 6061-T6 aluminum, finished with a diamond cutting tool, then lightly anodized black to impart it the JRDG hallmark elegance.

High quality female IEC 15A power input connector.

High quality female IEC 320 power output connector.

Large rocker on/off switch.

User accessible GMA 6A fuse.

Input voltage 85VAC – 240VAC, 50Hz – 60Hz.

Output voltage 384V DC.

Max power output: 700W.

18 inch long power 'pigtail' is supplied to connect PC-1 to compatible JRDG amplifiers.