Lượt xem: 953
Trong kho : Hết hàng
Nexus of time and space; dynamic gateway between digital and analogue worlds. HYBRID from Latin aerius – 'air' or 'atmosphere,' and late Latin aera – denoting an epoch from which time is reckoned. For complete coverage of Aeris DAC design and technology visit the Aeris DAC KnowledgeBase.
Aeris
AERIS DAC
The Aeris is the product of a close collaboration between Jeff Rowland Design Group and Holm Acoustics, a Danish company founded by Thomas Holm that specializes in signal processing products for high end audio applications.
The Aeris is much more than the successful result of a synergistic collaboration between the two companies. The high degree of complementary synergy between the two teams working in parallel can only be defined as a case of true organic design.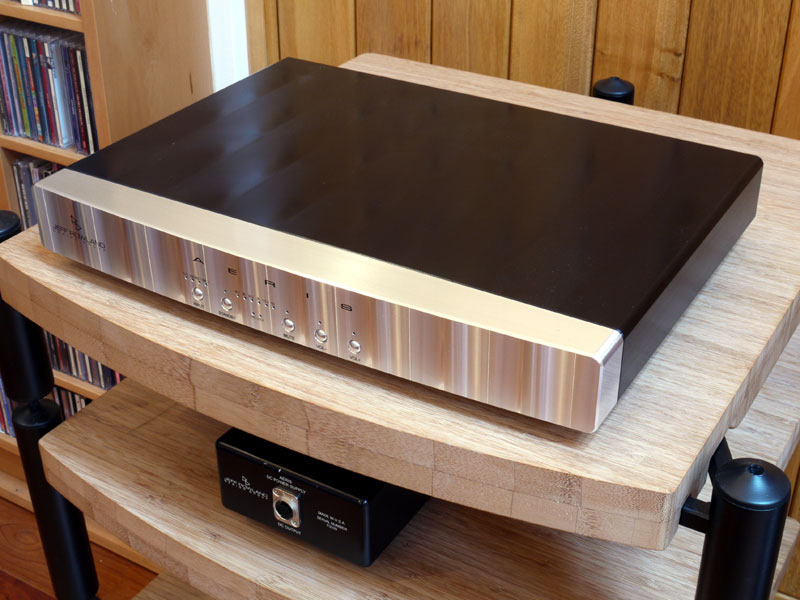 For complete coverage of Aeris DAC design and technology visit the Aeris DAC KnowledgeBase.
ISOLATED SYNCHRONOUS SYSTEM
Based upon an asynchronous buffer, voltage controlled crystal oscillators,  and a 24 bit D/A converter – all under the precise control of an FPGA (Field Programmable Gate Array) running proprietary algorithms. 
BIT PERFECT AND ULTRA LOW JITTER ON ALL INPUTS
Bit perfect conversion with total jitter output noise of less than 10 picoseconds RMS from any input – USB, TOSLINK, and SPDIF.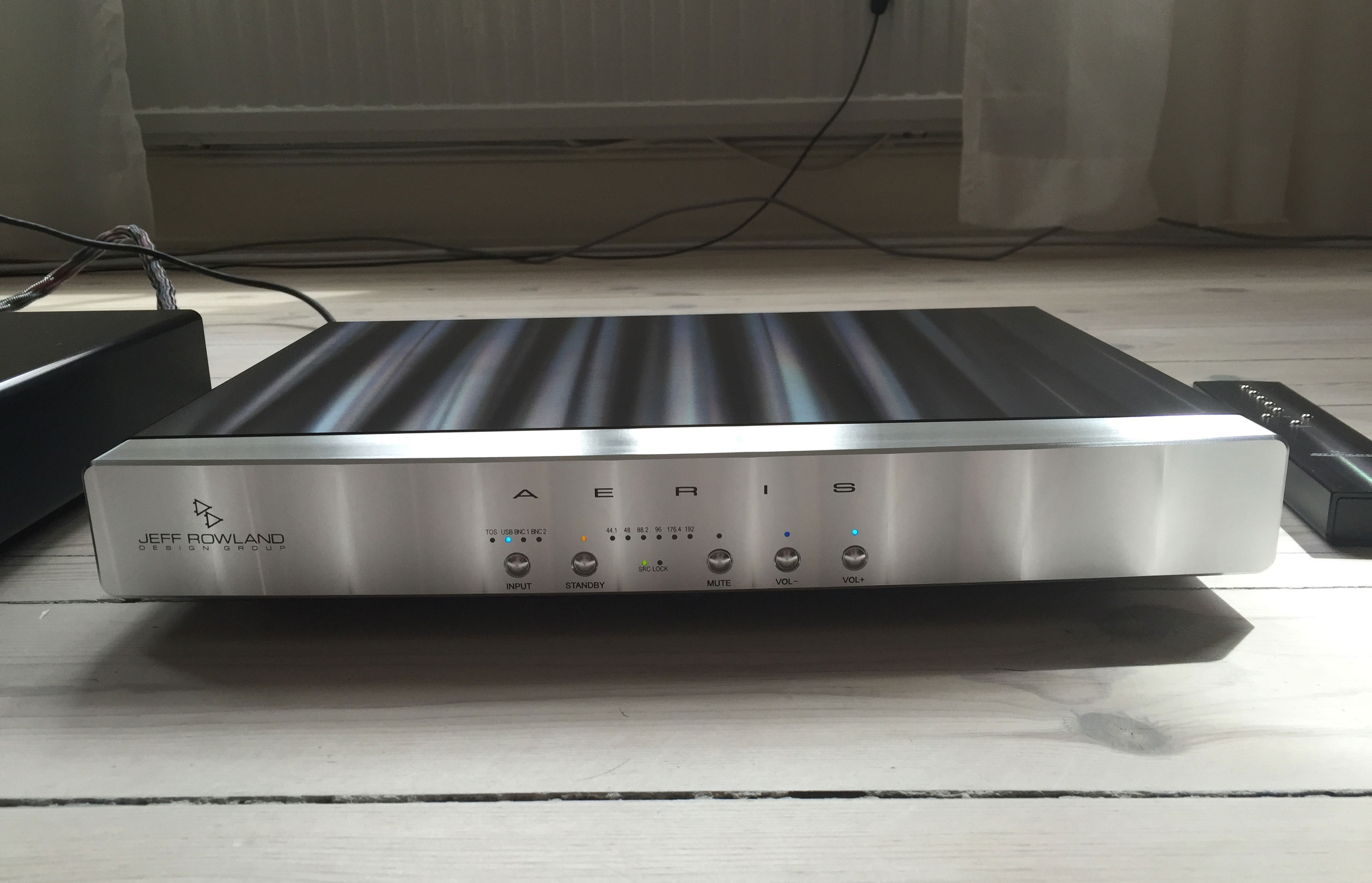 MULTI-STAGE ISOLATED POWER SUPPLY
Main power supply is isolated inside an external machined aluminum chassis. Eleven precision high-speed regulators provide low impedance and  low noise "point of load" DC current to all analogue and digital circuits. 
ISOLATED AUDIO AND DIGITAL CIRCUITRY
Left and right channel audio output circuits, digital processing, and D/A conversion circuits are isolated within individual milled aluminum pockets resulting in exceptional EMI shielding, and thermal stabilization. 
VOLUME CONTROL
Wide range level control of outputs permit direct connection to power amplifiers. 
DRIVER-FREE OPERATION
The USB interface requires no additional drivers to install or maintain/update. 
CROSS-PLATFORM
The USB interface is plug-n-play with all operating systems, including PC, Mac, or Linux. 
MACHINED ALUMINUM CHASSIS
Precision-machined chassis milled from a solid block of aircraft grade 6061-T6 aluminum, provides exceptional thermal stability, RFI/EMI shielding, and resonance control.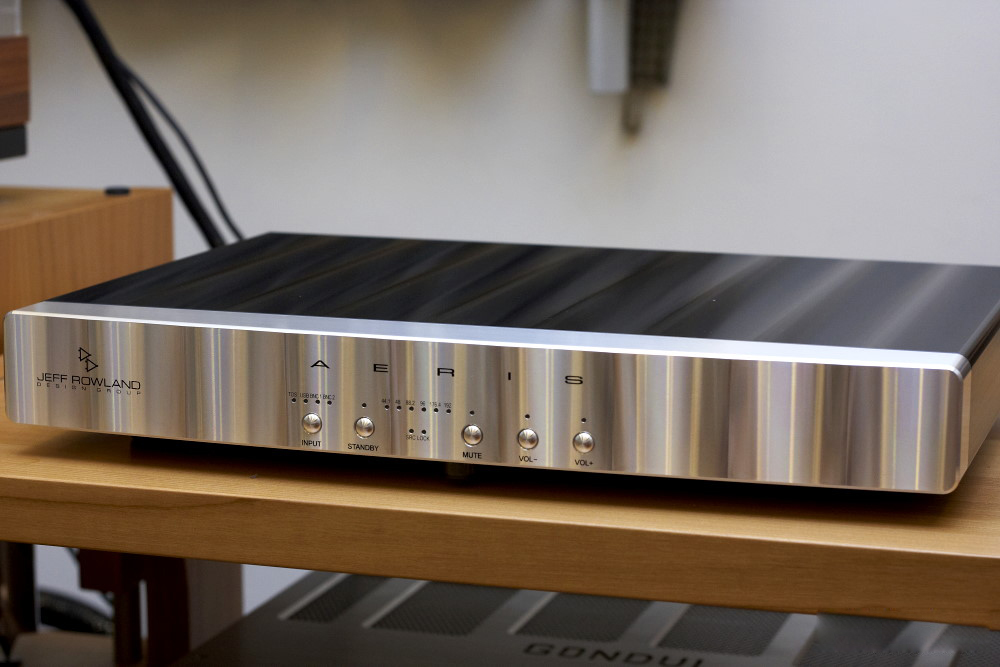 6-LAYER CIRCUIT BOARDS
Multi-layer circuit boards provide extremely low impedance ground and power distribution for remarkably low digital noise contamination. 
HIGH-PRECISION SURFACE MOUNT COMPONENTS
Extensive use of Lead (Pb)-free, low temperature coefficient, active and passive surface-mount components results in significantly smaller loop areas, reduced circuit capacitance and inductance, and introduces less noise than conventional leaded components. 
TRANSFORMER COUPLED OUTPUTS
Transformer balanced XLR line outputs provide outstanding output common-mode noise rejection, eliminate potential ground loops, and ensure compatibility with other equipment.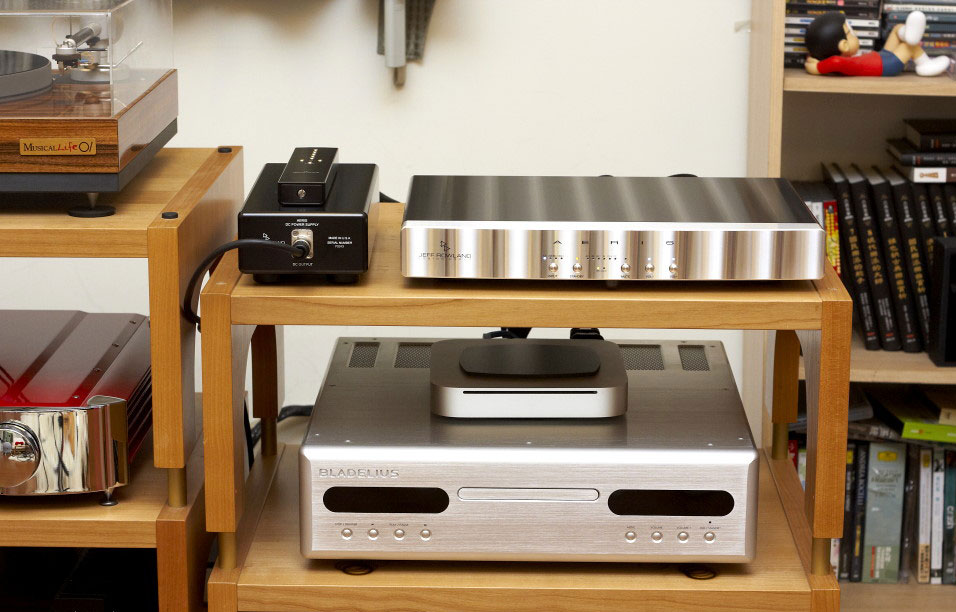 OUTPUT CONNECTORS
Rhodium / Teflon Cardas output connectors for both balanced and unbalanced outputs preserve maximum audio signal integrity. 
REMOTE CONTROL
Allows remote control of volume, mute, standby, and input selection.